A B C D E F G H I J K L M N O P Q R S T U V W X Y Z All
Proceeding of Midyear International Conference
View Journal | Current Issue | Register
Proceeding of International Students Conference on Accounting and Business
View Journal | Current Issue | Register
Eko-Regional: Jurnal Pembangunan Ekonomi Wilayah

View Journal | Current Issue | Register
Jurnal Ekonomi, Bisnis, dan Akuntansi
Jurnal
Ekonomi, Bisnis, dan Akuntansi is a journal published four times a year, designed to accommodate research articles in the field of management. This journal has been published by the Faculty of Economics and Business, Universitas Jenderal Soedirman since 2007. We invite articles in all functional areas of management, which are mainly about (but not limited to) Human Resources, Marketing, Finance, Operational and Strategic Management.
View Journal | Current Issue | Register
Sustainable Competitive Advantage (SCA)

Seminar Nasional dan call for paper ini manjadi wahana bagi para akademisi dan praktisi dalam bertukar pikiran tentang bagaimana mambangun keunggulan bersaing yang berkelanjutan bagi organisasi baik organisasi swasta maupun organisasi publik.
Kami berharap dengan hadirnya buku ini dapat memberikan gambaran konseptual tentang cara membangun keunggulan bersaing yang berkelanjutan bagi organisasi yang dikupas dalam empat bidang yaitu : manajemen pemasan, manajemen keuangan, manajemen SDM dan strategi, manajemen operasional dan sistem informasi, serta memberikan manfaat yang positif bagi para pembacanya.
View Journal | Current Issue | Register
ICORE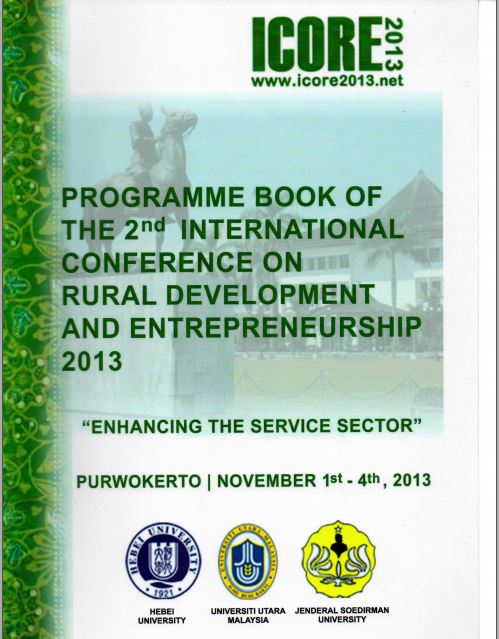 View Journal | Current Issue | Register
AKUNTABEL

View Journal | Current Issue | Register
1 - 7 of 7 Items